XI International Conference "PROBLEM DEBTS MANAGEMENT. INNOVATION 2021"
Dear Sirs, 
Company "Business-Format" invites you to take part in the work of the XI International Conference "PROBLEM DEBTS MANAGEMENT. INNOVATIONS 2021", which will be held on June 1, 2021, in Kiev (Ukraine).  FORMAT OFFLINE+ONLINE. 
The conference will be useful for: Heads of divisions responsible for problem debts, Directors of Legal Departments, Credit Departments, Heads of Security, Heads of collection, insurance and law firms, credit bureaus, as well as those who are interested in conference issues.
WHAT IS INTERESTING FOR YOU AT THE CONFERENCE THIS YEAR: 
1.The Conference PROGRAM – 2021 consists of several thematic blocks: 
Session 1 – Strategic, during which we will review the latest legislative initiatives and changes in the field of bad debt management.
Session 2 – Innovative. Within this thematic block, we will learn about innovations and new technologies in the field of countering credit fraud, improving credit scoring and managing stressful assets.
Session 3 – Practical. This session will traditionally present practical cases from leading banks in the area of collecting bad debts and improving the efficiency of the Collection service. 
2. Within the framework of the program, there will be a PANEL DISCUSSION on the topic "HOW TO IMPROVE THE EFFICIENCY OF COLLECTION AT THE PRESENT STAGE"
3. CROSS-DIALOG ONLINE  "INTERNATIONAL EXPERIENCE IN DEBT RECOVERY" 
The practical orientation of the conference, discussions, exchange of experience with colleagues ensures obtaining useful and relevant information to successfully address issues related to the effective management of the loan portfolio and reduce the level of overdue debt.
You can learn more about the program of the event and register as a participant in the Conference right now on our website: https://business-format.biz.ua.
In case of any questions, you can contact the Organizers by phone / fax: +38 (056) 375-72-80 (-81, -82, -03) or by e-mail: office@business-format.biz.ua
We will be glad to see you and your colleagues at the Conference!
Faithfully Yours,
Organizers – "Business-Format"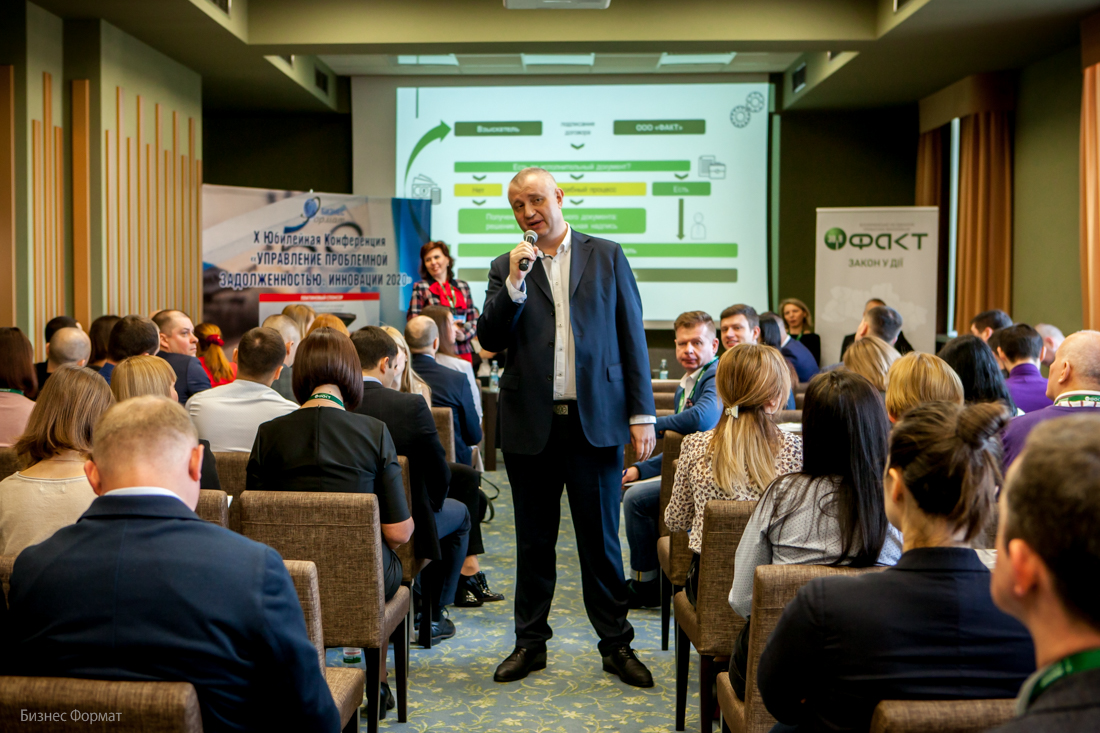 PRELIMINARY PROGRAM *
XI International Conference"PROBLEM DEBTS MANAGEMENT. INNOVATION 2021"
June 1, 2021, Kiev, Ukraine
OFFLINE+ONLINE
REQUEST FOR UPDATED PROGRAM BY email office@business-format.biz.ua
08.30-09.25

Registration of participants

 

09.25-10.50 –Strategic Session №1

«STRATEGIC WORK WITH PROBLEM DEBTS.

TRENDS AND THE LAST LEGISLATIVE AMENDMENTS»

09.25-09.30         Opening of the Conference.

09.30-09.50

Recent changes in legislation regarding collection of problem debts

09.50-10.10

Judicial practice as a methodological basis for enforcement proceedings

10.10-10.30

Bankruptcy Code. Impact on the financial market.

10.30.-10.50

Legal aspects of working with debtors and effective methods of protecting the creditor in modern realities

10.50-11.20 Coffee-break

11.20-12.40 –Innovation Session № 2:

«COLLECTION in FUTURE. INNOVATIONS-2021»

 

11.20-11.40

Credit fraud in the digital age. New technologies in the field of countering credit fraud

 

11.40-12.00

Analytical models and BIG DATA for predicting client financial behavior

 

12.00-12.20

Automate the collection of bad debts. How to get maximum results from the process of recovery and from employees?

 

12.20-13.00 – PANEL DISCUSSION

«NEW IN LEGISLATION FOR NON-BANKING FINANCIAL ORGANIZATIONS" 

 

13.00-14.00 –Lunch

14.00-15.40 – Practical Session  № 3:

«HOW CAN YOU RETURN YOUR MONEY?»

 

14.00-14.20

Organizational collection efficiency: development of a plan of measures for dealing with problem debt and ways of its voluntary settlement

 

14.20-14.40

Features of work with problem debt in unsecured loans to individuals

 

14.40-15.00

Private Executors. Practical experience of effective execution

 

15.00-15.30

Tools to improve the performance of debt collection

 

15.30-16.00 Coffee-break

 

16.00-17.00 CROSS-DIALOGUE ONLINE "INTERNATIONAL EXPERIENCE IN DEBT RECOVERY"

17.00 – Closing of the event

 
 
 
 
 
 
*The organizers reserve the right to make changes to the conference program
Alexey Polyakov, Deputy Chairman of the Board of the FACT Association
Alena Andronikova, СEO Moneyveo 
Moneyveo is the leader of the Ukrainian FinTech market. At the company, Ms. Andronikova has developed a strong innovative strategy that has led to business growth, increased operational efficiency and entry into the international market. For her successes and achievements in the business sphere, she was recognized as the best business woman in the field of online lending according to womo.ua (top rating "Women's Leadership"), one of the most successful women in Ukraine in the field of financial technologies
Alla Slobodyanyuk , Group Head of debt collection at Creditstar Group AS
Creditstar Group AS is a leading international digital consumer finance company.We are a financial technology company using technology, automated processes, algorithms and data analysis to make our credit products easily available to hundreds of thousands of customers in 8 countries in Europe.
Alexander Zinkov, Deputy Chief Operating Officer for debt collection, Credit Cashier (Ukraine)
Anatoly Telyavsky,
Deputy Chairman of the Association of Private Performers of Ukraine, "FACT"
Elena Suprun, Head of the Department for the Development of Collection and Controlling Processes, ALFA-BANK (Ukraine)
PAY FOR PARTICIPATION ONLINE